ALPHA-1062 is a prodrug of an approved AChEI, galantamine. It has been designed to significantly reduce the side-effects observed with the other acetylcholinesterase inhibitors.
ALPHA-1062 is absorbed in the small intestine as an inert drug. Binding with AChE in the gastrointestinal nervous system is blocked by the addition of a benzoyl ester to galantamine. This reduces overstimulation of local neurons, reduces GI side-effects, and increases bioavailability. Once absorbed, ALPHA-1062 is metabolized in the liver to the active drug, galantamine and is carried to the brain in the circulatory system.
AChEIs activity in the GI nervous system overstimulates local neurons resulting in side-effects and decreased bioavalability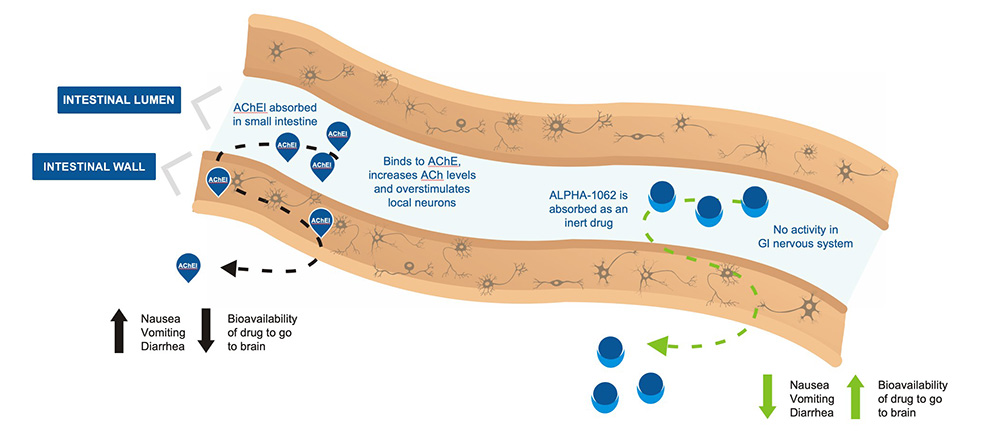 To decrease side-effects, AChEIs need to be started at a low dose which is then slowly increased until the effective dose is reached. This titration schedule may take up to 12 weeks and may delay when improvement in cognition is observed. The improved side-effect profile of ALPHA-1062 may help to optimize the effectiveness of treatment by enabling patients to start treatment at a therapeutic dose and stay on therapy longer.
ALPHA-1062 will utilize the 505(b)(2) regulatory pathway for approval in the USA. This approach de-risks the program and accelerates time to launch. Approval for ALPHA-1062 will be based on demonstrating bioequivalence to galantamine. To date, pilot studies have confirmed bioequivalence with an improved side-effect profile as expected. The pivotal program will initiate in Q3 2021 with top-line results anticipated by the end of 2021. The NDA will be filed in 2022 with projected approval and launch in 2023.
ALPHA-1062 Potential
Improved side-effect profile
Improved bioavailability
Better Compliance and Adherence
Faster titration leading to earlier improvement
Optimized effectiveness